KDR from a Parent's Perspective
It has been nearly thirty years since the chartering of the Iota Beta chapter of Kappa Delta Rho at the Rochester Institute of Technology. It was there at RIT in my sophomore year that I was introduced to KDR by fellow Brothers that were working in a student government association along with me. They described a new, different kind of fraternity they were forming. Something well beyond the stereotypes I was familiar with. My intrigue grew from there – and little did I know how much of an impact that fortuitous encounter would have on the rest of my life. So much of who I am today can be tied back to my becoming a man as a KDR at RIT.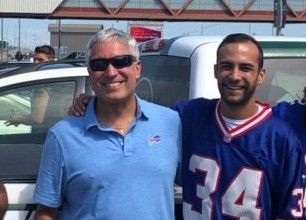 Not too long ago one of my sons started his college experience at RIT and seeing what an impact the fraternity had on me, and the lifelong connections he saw that came with it, to my pleasure he too pledged KDR. While his path was different than mine, the support and comradery of his brothers were the same.
So I am both a proud Kappa Delta Rho brother and parent and want to avail every opportunity to support our KDR students in all aspects of their lives, to enable them to become the best version of themselves. I know KDR helped me and continues to in that constant quest I have in becoming a better person. And I view the KDR Foundation Parents Fund as one vehicle parents have in supporting KDR students. The KDR Foundation provides a vast array of scholarship opportunities.
Thanks to the Foundation, our KDR sons have access to scholarships and leadership development programs that will help them academically and professionally. This past year the Foundation awarded over $100,000 in scholarships. It also sponsored high-quality education programs, such as the "Legion," Williams Leadership Academy, and the Consuls Academy, which teach our sons valuable social and leadership skills. These programs do have a price tag, however. Please join my wife and me in supporting the Kappa Delta Rho Foundation Parents Fund. All donations are tax-deductible! Visit kdr.com/foundation to learn more about the Foundation and to donate online. If you would like more information on the KDR Foundation, contact Hall Jones, President of the Kappa Delta Rho Foundation, at (617) 680-9543 or e-mail at hjones@kdr.com to learn more about the importance of the KDR experience in your son's life.
Alok Kapoor, Iota Beta '93